JAP/SAP One Day Conference - 'Displacement: Contemporary Traumatic Experience'
Saturday November 9th 2019, 9.30 am - 4.30 pm
Friends House, 173 Euston Road, London NW1 2BJ
Although the movement and integration of disparate peoples over time has always been a part of our collective histories, we are currently living through a time in which the wholesale destruction of countries as viable entities is a reality. Millions of dis-placed people with no 'where' to locate themselves end up either in camps scattered across Europe, the Middle East, Africa and tiny Pacific Islands near Australia, or gather in areas on the edges of cities neither fully inside nor outside their host communities, challenged with attempts to 'assimilate' themselves within foreign (to them) cultural milieux. As host communities in Europe and elsewhere also begin to grapple with these challenges, walls are going up and national boundaries enforced as compensatory activity against rising anxieties of being 'pushed out of place' or overwhelmed by 'others' who we perhaps fear may render 'our' familiar places unfamiliar, perhaps leaving 'us' feeling 'othered'.
While some of us may work directly with recent refugees, many of us are now working with patients in our consulting rooms who have either come from refugee backgrounds, or who have experienced either traumatic or confusing migration experiences. These are patients who bring with them a question about 'where' they are, as much as the need for therapeutic help with their more intimate personal psychic suffering.

Our three guest speakers Amanda Dowd (Australia), Monica Luci (Italy), Ali Zarbafi (London and Iran) each bring a wealth of experience to our discussion from different perspectives and cultural contexts.

We cordially invite you to join us for our one-day Conference 'Displacement: Contemporary Traumatic Experience' to be held in London on Saturday 9 November, 2019, which we hope will provide you with an opportunity to share experience and think together about this most urgent contemporary issue and therapeutic dilemma.
Tickets for the conference are £125 to include lunch; to book click here for the SAP site's booking.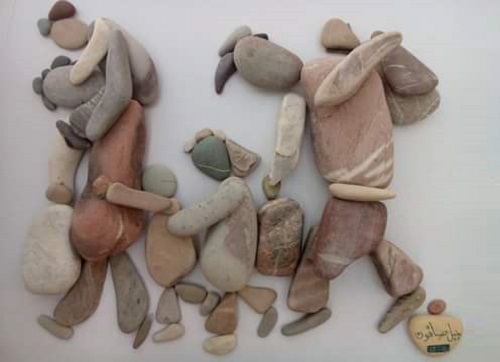 Nizar Ali Badr's 'Pebble Stories' (1)
For more about the speakers and their individual talks click here